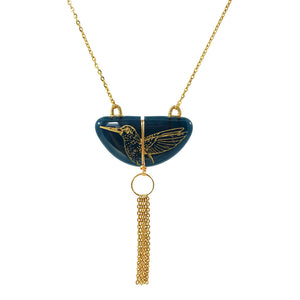 According to mayan myths, upon completing the creation of the universe, the gods gave everything and every creature a purpose and a job. However, they soon realized that there was no creature that could carry wishes from one place to another. Having used up all of their clay and maize to create the world, they used jade to make a small arrow. Once the gods breathed life into this arrow it became the infinitely beautiful hummingbird. Never leave your wishes behind with this incredible necklace made from fused glass. You will fall in love with the rich deep blue of the glass and its golden details.
Each year Vitrales by Margarita Llort explores glass' potential through new and exciting creations. For our new collection we've chosen to venture into the Enigmatic Mayan Forest. These new pieces of glass jewelry, unique in every way, stand out with refreshing designs inspired by the same mesoamerican wildlife that would have inspired the Mayas. Discover the elegance of glass through the work of Margarita Llort and her team of artisans.
Our pieces are always hand made by artisans specialized in glass. We strive to follow principles of sustainability and are proponents of recycling and upcycling processes. We continue to use left-over materials from other projects, turning it into new and exciting creations. Let's care for our planet through eco-friendly art!
Characteristics
Handmade necklace by artisans specialized in glass art.

Materials: Artistic glass mounted on a stainless steel chain.

Technique: Fused Glass

Length: 64 cm / 25" inches

Weight: 0.03 kg / 0.07 pounds

Packaging: Our pieces are packaged in a cardboard box. We include a tag with information about the piece, the process, and the artisans.

Packaging dimensions: Length 18.5 x Height 11.6 cm x Width 2.5 cm / Length 7.2x Height 4.5 x Width 0.9 inches

Packaged weight: 0.06 kg / 0.13 lbs

Limited Edition

Care: Carefully clean with a moist non-scratch cloth.

Keep in original packaging, away from sunlight and heat. Do not tangle or scratch the pieces with one another.

Keep the necklace dry and avoid contact with skincare products.