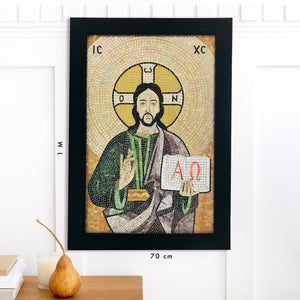 Inspired by the Christ Pantocrator, the most famous of the Byzantine mosaics (12th century) in the Church of the Holy Wisdom, Turkey.
The Byzantine mosaic is unique for its figurative style; Most of the expressions of this art talk about the imperial figure and Christianity.
All our mosaic projects and other pieces are handmade by our team of artisans experts in the glass. For the elaboration of this project we use different shades of glass to achieve shadow and light effects, and we also use different sizes in glass to achieve the slightest detail of the image.
Table characteristics:
Handmade unique design box under the technique of mosaic with glass
It is made with artistic glass on a wooden base
Framed with cured pine wood
Dimensions: 1 Mt Long x 70 cm wide/ 39 "length x 28" width
Packaging: All our pieces with assembled in cardboard box and protected with sponge and plastic bubble.