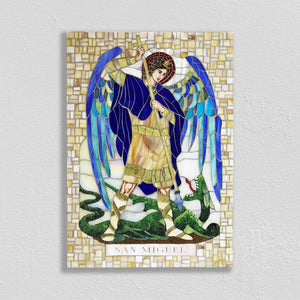 This beautiful representation of Saint Michael the Archangel made in mixed glass mosaic technique with glass frits and powders reminds us of the protector and lawyer of God's chosen people. The Catholic Church considers him the patron and protector of the Universal Church.
As the Prince of Heavenly Host he is in charge of thwarting Satan and defend humanity from evil to avoid the perdition of souls. For this reason, in art he is represented as an angel threatening a demon, a snake or a dragon with a spear or sword.
This was a single piece made using our upcycling process, from big pieces of glass leftovers until glass frit and even powders to achieve great precision in the details. Our commitment with no waste is the reason to take extra time looking for these pieces, not just cutting from new sheets.
Face and human figures were hand painted with the ancient grisaille technique, to guarantee quality and durability.
Features:
This  unique design piece is made from  3mm glass mosaic scrap, glass frits and powders, over a wooden base
Dimensions: 52 cm long x 37 cm wide/ 20.4" long x 14.5" wide
Weight: 5.7 lb/ 2.5 kg
Packaging: Our pieces are packed in a cardboard box with sponge and bubble wrap for protection. We include a label with information about the technique used, the handwork and information about the artist.
NOTE: This product could be out of stock and most be ordered. Once you place the order it may take about 15 days to deliver in San Salvador city. Out of the country it may take from 25 to 30 days to deliver.
*Time could vary